Here is a list of books that I love, which can be found on Epic!
Epic! is a hub with over 10,000 children books. You can read, listen or read-a-long to a huge range of fiction and non-fiction publications.
I love searching through the database and finding ones that I think are excellent examples of living, inspiring, well written books.
You can try Epic! for 30 days for free. After that there is a small subscription fee. Click on the image below to try today!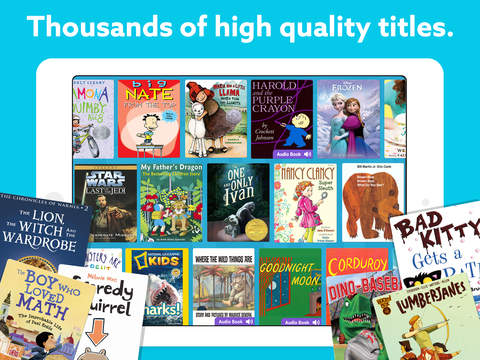 Why Epic?
Over 25,000 books for children.
Epic! can be accessed on a PC, tablet or a smart phone.
Epic! has books, read-to-me books, audio books, quizzes and learning videos.
Epic! can be customised for each child and their age (up to 14 years).
Children earn rewards for reading and finishing books.
Turn access to learning videos on or off.
Books include classics, award winners, factual, picture books, readers… see my favourites below.
Spanish, French and Chinese books too!
Your children will love Epic! and it's so easy to take it anywhere. Replace gaming with reading!
My Favourite Books
Fiction
Mercy Clifton: Pilgrim Girl by Peter Marshall
The Big Wave by Pearl S. Buck
A Girl Called Problem by Katie Quirk
A Bird on Water Street by Elizabeth O. Dulemba
Little Women by Louisa May Alcott
Anne Of Green Gables by Lucy Maud Montgomery
The Canterbury Tales by Sarah Courtauld, Abigail Wheatley, Susanna Davidson
Don Quixote by Henry Brook, Miguel de Cervantes Saavedra
Tales of the Trojan War by Kamini Khanduri
Little Lord Fauntleroy by Frances Hodgson Burnett
The Town that Fooled the British: A War of 1812 Story by Lisa Papp
Promise by Judy Young
Winterbound by Margery Williams Bianco
Red Berries, White Clouds, Blue Sky by Sandra Dallas
A Christmas Carol by Charles Dickens
The Secret Garden by Frances Hodgson Burnett
The Tattoo Fox by Alasdair Hutton
Spice and the Devil's Cave by Agnes Danforth Hewes
The Treasure of Barracuda by Llanos Campos
Men Of Iron by Howard Pyle
The Story of King Arthur and His Knights by Howard Pyle
Heather and Broom: Tales of the Scottish Highlands by Sorche Nic Leodhas
Chasing the Nightbird by Krista Russell
Otto Of The Silver Hand by Sidney Lanier
My Travels with Capts. Lewis and Clark, by George Shannon by Kate McMullan
Great Horse Stories by James Daley
The Black Arrow by Robert Louis Stevenson
The Quilt Walk by Sandra Dallas
The Last Brother: A Civil War Tale by Trinka Hakes Noble
In the Heart of the Rockies: An Adventure on the Colorado River by G.A. Henty
In Freedom's Cause: A Story of Wallace and Bruce by G.A. Henty
Under Drake's Flag: A Tale of the Spanish Main by G.A. Henty
Wulf The Saxon: A Story Of The Norman Conquest by G.A. Henty
Captains Courageous by Rudyard Kipling
Shoemaker Martin by Leo Tolstoy
Time and the Clock Mice, Etcetera by Peter Dickinson
Shakespeare's Stories for Young Readers by E. Nesbit
The Railway Children by E. Nesbit
Why The Crocodile Has A Wide Mouth And Other Nature Myths by Florence Holbrook
Swallows and Amazons by Arthur Ransome
Swallowdale by Arthur Ransome
Peter Duck by Arthur Ransome
Winter Holiday by Arthur Ransome
The Peterkin Papers by Lucretia P. Hale
The Marvellous Land of Snergs by E. A. Wyke-Smith
The Silent Spillbills by Tor Seidler
Brothers Below Zero by Tor Seidler
Terpin by Tor Seidler
Home Is Beyond The Mountains by Celia Barker Lottridge
Wings to Fly by Celia Barker Lottridge
Gnome's Eye by Anna Kerz
The Secret Room by Antonia Michaelis
Sweet Land of Story by Pleasant DeSpain
Tree of Freedom by Rebecca Caudill
The Dolphin Rider and Other Greek Myths by Bernard Evslin
The Moon Book by Gail Gibbons
Peggy's Letters by Jacqueline Halsey
Abominables by Eva Ibbotson
Non-Fiction
Mystery Math: A First Book of Algebra by David A. Adler
Leif Eriksson by Shannon Knudsen
The Voyageur's Paddle by Kathy-Jo Wargin
A Girl Called Vincent
An Island Story Series by H E Marshall
Snow by Valerie Bodden
Verdi for Kids: His Life and Music with 21 Activities by Helen Bauer, Deborah Voigt
Isaac Newton and Physics for Kids: His Life and Ideas with 21 Activities by Kerrie Hollihan
Famous Men of Ancient Rome: Lives of Julius Caesar, Nero, Marcus Aurelius and Others by John H. Haaren, A. B. Poland
The Far Side of the Moon by Alex Irvine
Pippo the Fool by Tracey E. Fern
The Boston Tea Party by Russell Freedman
The House That George Built by Suzanne Slade
Full Moon Lore by Ellen Wahi
Burn: Michael Faraday's Candle by Darcy Pattison
The Adventures of Lewis and Clark by John Bakeless
The Story Of Joan Of Arc by E. M. Wilmot-Buxton
Booth Brothers: Drama, Fame, and the Death of President Lincoln by Rebecca Langston-George
The the Heart of Africa (David Livingstone) by Valerie Bodden
Hana's Suitcase: A True Story by Karen Levine
Abe Lincoln: His Wit and Wisdom from A-Z by Alan Schroeder
Lauren Ipsum: A Story About Computer Science and Other Improbable Things by Carlos Bueno
Doing Her Bit (Women's Land Army) by Erin Hagar
Super Dogs by Malcolm Croft
The Man Who Knew Everything: The Strange Life of Athanasius Kircher by Marilee Peters
Great Medieval Projects by Kris Bordessa
National Geographic Readers: Rocks and Minerals by Kathleen Weidner Zoehfeld
Verbs and Adverbs by Ann Riggs
Adjectives and Prepositions by Ann Riggs
Sentence Types and Punctuation by Ann Riggs
Phrases, Clauses, and Conjunctions by Ann Riggs
Nouns and Pronouns by Ann Riggs
Common Grammatical Mistakes by Ann Riggs
The Legend of the Teddy Bear by Frank Murphy
Emily and Carlo (Emily Dickenson) by Marty Rhodes Figley
The Story of Passover by David A. Adler
The Illustrated Book Of Knights by Jack Coggins
Bunny the Brave War Horse by Elizabeth MacLeod
Adopted By An Owl: The True Story of Jackson the Owl by Robbyn Smith van Frankenhuyzen
Sadako's Cranes by Judith Loske
Shep: Our Most Loyal Dog by Sneed B. Collard
Ada Byron Lovelace and the Thinking Machine by Laurie Wallmark
The Million Stories of Marco Polo by Michael J. Rosen
Amazing Ben Franklin Inventions You Can Build Yourself by Carmella Van Vleet
Trudy's Big Swim by Sue Macy
Fur, Fins, and Feathers: The Invention of the Modern Zoo by Cassandre Maxwell
Picture Books
In a Village by the Sea by Muon Van and illustrated by April Chu
Lily and the Paper Man by Rebecca Upjohn and illustrated by Renné Benoit
Rebekkah's Journey: A World War II Refugee Story by Ann E. Burg
The Bremen Town Musicians by Brian Wildsmith
The Legend of the Cape May Diamond by Trinka Hakes Noble
The Right Word : Roget and his Thesaurus by Jen Bryant
Toe Shoe Mouse by Jan Carr
The Lucky Star (Great Depression) by Judy Young
Through the Gate by Sally Fawcett
Books Do Not Have Wings by Brynne Barnes and illustrated by Rogério Coelho
The Christmas Tree Ship by Carol Crane
Beautiful Moon by Tonya Bolden
A Child's Christmas in New England by Robert Sullivan
Itsy Bitsy and Teeny Weeny by Robbyn Smith van Frankenhuyzen
A Child's Calendar by John Updike
Kate Warne, Pinkerton Detective by Marissa Moss
Waiting for the Whales by Sheryl McFarlane
A Dog For a Friend by Marilynn Reynolds
Dancing Cranes by Bao Dongni
In the Red Canoe by Leslie A. Davidson
The Story Of The H.L. Hunley And Queenie's Coin by Fran Hawk
The Elephant Keeper by Margriet Ruurs
Finding Home by Kristy Abbott
Finding Home by Sandra Markle
The Great North Woods by Brian Heinz
Snow on Martinmas by Heather Sleightholm
Jasper's Story: Saving Moon Bears by Jill Robinson, Mark Bekoff
Philip Reid Saves the Statue of Freedom by Steven Sellers Lapham, Eugene Walton
Imani's Moon by Janay Brown Wood
The Great and the Grand by Benjamin Fox
The Legend of the Loon by Kathy-Jo Wargin
Some of the Beatrix Potter series
Washday by Eve Bunting
Grandfather's Wrinkles by Kathryn England
In Andal's House by Gloria Whelan
Yuki and the One Thousand Carriers by Gloria Whelan
Yatandou by Gloria Whelan
The Tsunami Quilt: Grandfather's Story by Anthony D. Fredericks
Hardlucky: The Story of a Boy Who Learns How to Think Before He Acts by Miriam Chaikin
Paper Son: Lee's Journey to America by Virginia Shin-Mui Loh, Helen Foster James
The Scarlet Stockings Spy: A Revolutionary War Tale by Trinka Hakes Noble
Moby Dick by Philip Edwards
Sailing the Unknown (Captain Cook's Journeys) by Michael J. Rosen
The Gift Of The Inuksuk by Michael Ulmer
Titanicat by Marty Crisp
Grandpa's Clock by Rachna Gilmore
Mussorgsky's Pictures at an Exhibition by Anna Celenza
Book by David Miles
John Muir Wrestles a Waterfall by Julie Danneberg